WHITEPLAN
Rapha World - Yes, we specialize in Ceramics.

WHITEPLAN DWP-280
WHITEPLAN is a tooth whitening system that uses the same method and processes as dental clinics, but was developed for home use. This tooth whitening system is highly effective in a short amount of time with the use of a whitening agent containing hydrogen peroxide, a customizable oral tray, and a Blue LED light beam. With 5 minutes usage for 3 times a day, in just one week you will see the results.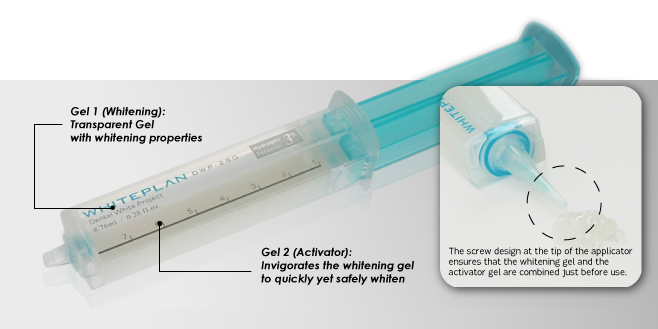 SYSTEM 01
WHITEPLAN Activator(Whitening gel)
WHITEPLAN utilizes a whitening gel that is invigorated with an additional activator gel. It is effective even with the use of a small amount of gel while remaining safe to use with no negative effect to the teeth or gums. WHITEPLAN utilizes a tooth whitening device. It will safely store the whitening gel and the activator gel separately.
However, these 2 types of gels are combined upon use to provide more effective synergistic results.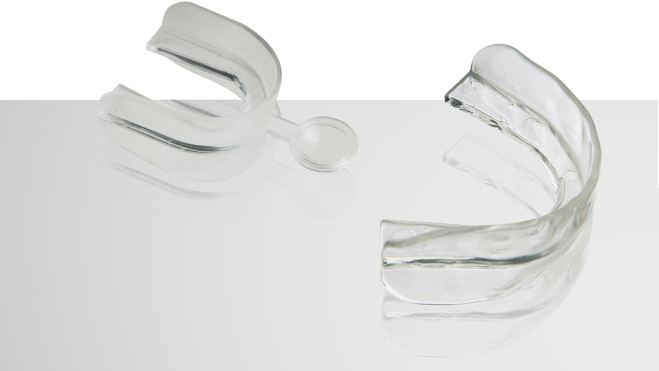 SYSTEM 02
WHITEPLAN Oral Tray
WHITEPLAN includes an oral try that is customizable to the oral structure of the user´s teeth and gums. First place the oral tray in hot water (about 70˚C) for 1 minute and take out.
When the tray has cooled for a little while (to about 45˚C), bite down on the tray and fix with your fingers to fit snugly against your teeth and gums. When it hardens, you will have an oral tray that is customized to fit your oral structure.
Since there will be no negative space between your teeth and this customized tray, the whitening process will be extra thorough.
In consideration of the oral cavity and the safety of the user, material seepage, cytotoxicity, and sensitivity tests have been performed to assure the safety of this product.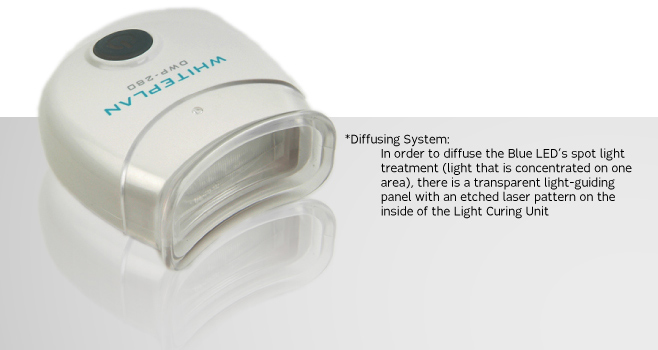 SYSTEM 03
WHITEPLAN Light Curing Unit
WHITEPLAN utilizes a Blue LED Light Curing Unit along with whitening and activator gels. (Only WHITEPLAN has received the license of this Light Curing Unit)
WHITEPLAN's Light Curing Unit has been verified by Yonsei University Dentistry Department as having the capability to whiten teeth. Technology such as the special diffusing technology of LCD monitors and the highly effective in whitening Blue LED light provide a functionality that will uniformly and effectively whiten teeth.
WHITEPLAN, with its Light Curing Unit, sets a new paradigm in providing an effective teeth whitening system.
The Scientific & Systematic WHITEPLAN -
Verified Whitening System
This verified system was initially researched and developed for 2 years, Clinically demonstrated
by Koryo University, licensed, patented, and selected as a top design.
- Approved as a tooth whitening pharmaceutical by the KFDA
- Light Curing Unit approved as a medical device
- by the KFDA (Invigorates tooth whitening)
- Approved as a tooth whitening pharmaceutical by the KFDA
- Approved as a tooth whitening pharmaceutical by the KFDA
- Approved as a tooth whitening pharmaceutical by the KFDA
WHITEPLAN 5th Generation Teeth Whitening System -
Luster Activating Type
Safe and effective with the activator! Customizable Oral Tray fits snugly so all parts of teeth come in contact with gell Enhance and speed up whitening effct with Light Curing Unit !

Uniform Whitening Throughout -
Diffusing System
The luster activating system works effectively while the diffusing system allows uniform whitening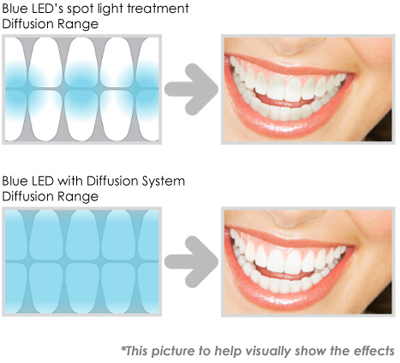 WHITEPLAN's light curing unit utilizing the light diffusing system through the use of the Blue LED's spot light treatment(light that is concentrated on one area) to evenly spread and diffuse the light so all areas of the teeth will be exposed to the positive whitening effects.
Reasons for tooth discoloration -
SEM (Detailed microscope) photo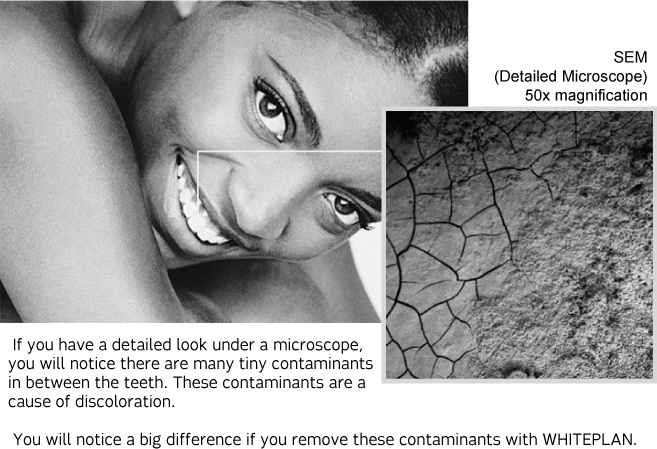 WHITEPLAN Direction of Use -
3 l 5 l 7 System (3times a day, for 5minutes each, for 7days)
You can see the results if you use it consistently for 1 week.
Competitor Product Comparison
When compared, the difference in quality is apparent.
WHITEPLAN is a special product because it not only has superior whitening effects, but also can boast user safety through the quality of the materials that are used.
WHITEPLAN
COMPANY N
COMPANT I
COMPANY L
Whitening Type
Gel Type Whitening(Syringe)
Gel Type Whitening(Syringe)
Gel Type Whitening(Tube)
Stick Type Whitening
Activator
Invigorates Whitening with Activator
none
Manual Mixing from Tube Type
none
Oral Tray Type
Customized to User
Customized to User
Standard Generic Tray
none
Biological Test Results
Oral Tray & Device Cover:
material seepage, cytotoxicity,
and sensitivity tests passed
none
none
none
Light Curing Unit
(Approved as Medical Device)
Device licensed as tooth whitening
none
Device has not been approved
none
WHITEPLAN License and Certifications
Pharmaceutical, Medical Device, Patented, GD selected
WHITEPLAN has been certified by the Korean Food and Drugs Administration, Korean Intellectual Property Office, and the Korea Institute of Design Promotion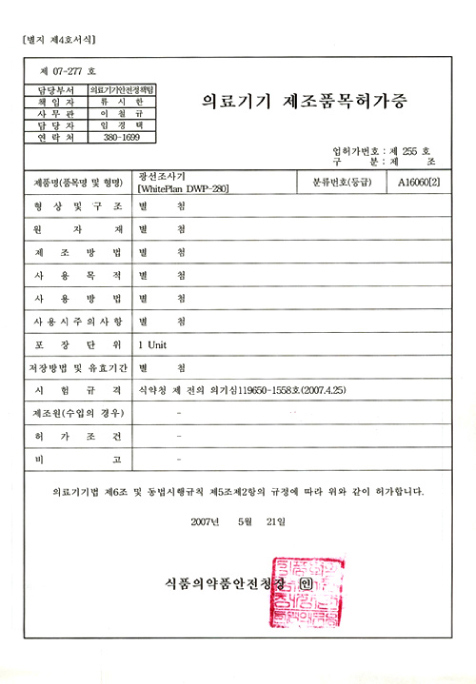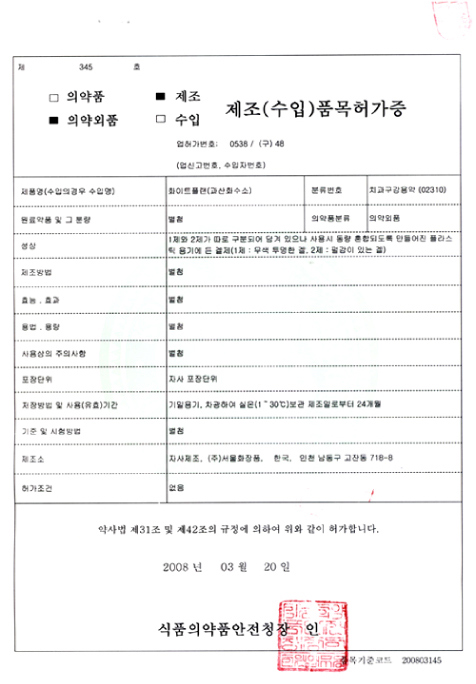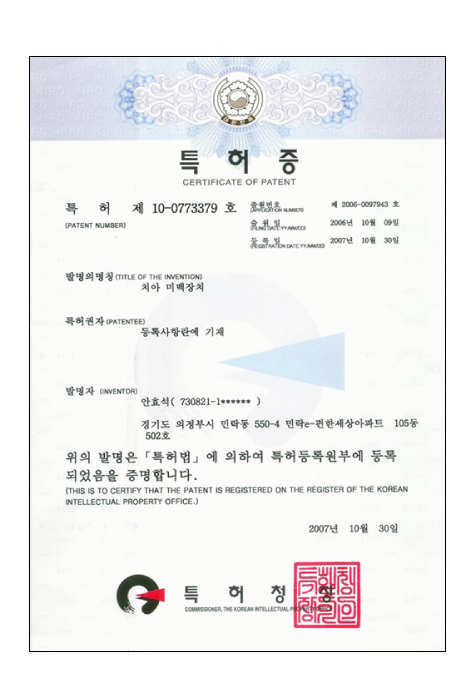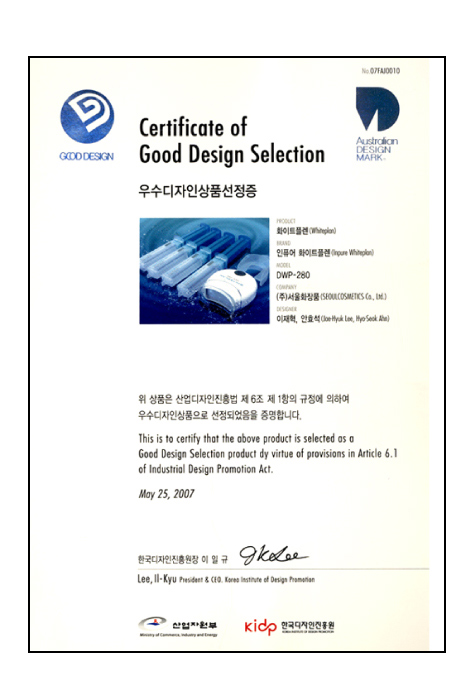 Product Image & Dimension