Lifting Mask Set
Rapha World - Yes, we specialize in Ceramics.
Lifting Mask Introduction
Improvement of Neck Wrinkles + Chin/Jawline Wrinkles + Facial Lifting + V-Line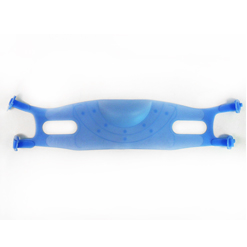 Negative points of previous masks on the market :
1) Need to re-purchase due to stretching after continued use.
2) Need to dry for long periouds of time after washing propagating bacteria growth.
3) Composed of rubber.
4) Insignificant effect on lifting of cheek, jawline, and chin.
Positive points of Rapha Lifting Mask :
1) It has passed multiple tention tests so it will not stetch even after continued use.
2) It can be simply washed under running water and the silicone material will dry quickly.
3) Made of non-toxic silicone that is used in children´s products. it is not hazardous to the body because it is made of odorless hardened silicone.
4) Semi-permanent use.
5) Has a lifting effect on the cheek, neck, and jawline as the silicone a dheres to the skin.
With patented technology and an expert´s know how, Rapha Lifting Mask gives you the confidence of a beautiful V-Line. Rapha Lifting Mask is different than previous packs in that it does not have extra contents, only the silicone mask that adheres to the face and gives a pulling effect on the skin. It can be used on skin that is sensitive to makeup without the worry of causing skin irritation or trouble. It targets double and undefined chinns to create a well defined V-Line. It is made of semi-permanent silicone that will not cause trouble or is hazardous to the human body. It is based on the RoHS standard (Restriction of Hazardous Substances).
How to wear Lifting Mask
Creats a beautiful V-Line face with just 15-30 minute daily usage.
Product Characteristics
Rapha Lifting Mask is made of nonhazardous silicone material. It will pull adhere to the skin and have a pulling effect to improve cheek, neck, jawline wrinkles and overall V-Line appearance.
Product Components
V-Line Mask + 4 clips
Usage Directions
After facial washing, fit the V-Line mask to the neck and jawline in a V-shape and pull up on top of the head to fasten the buckles. Adjust the length of the strap to fit the shape and face of the user.
How to Use
Fibroblasts undergo cell differentiation to become adipocytes

- Mitosis inactivation

- Gene activation (differentiation factors, transcription factors, lipogenesis enzymes)

- Intracellular calcium increase

- Extracellular matrix and cytoskeleton modification
The imprtance of calcium in the adipocyte differentiation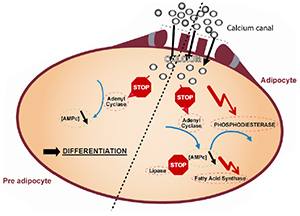 - Calcium in preadipocyte inhibits adenyl cyclase. AMPc decreases and stimulates differentiation
- Calcium in adipocyte inhibits adenyl cyclaseand stimulates phosphodiesterase. AMPc decreases and stimulates lipid synthesis.
Increase of intracellular calcium stimulates differentiation andlipid storage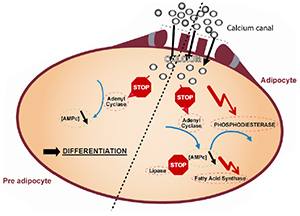 Decrease of calcium flow inhibits pre adipocytes differentiation and stimulates lipolysis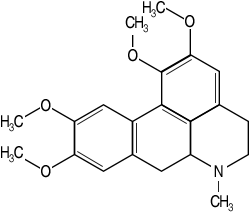 Effect of glaucineon he adipocyte: > Calcium flow regulator (decrease)Phosphodiesterase inhibitor
Glaucine in Bodyfit™ is syntheticfor standardisation purposes.
It is known for its anti-inflammatory properties.
Some studies indicate that glaucine is an inhibitor of superoxide generation, elastase release and intracellular calcium signal.
EFFECT OF BODYFIT™ ON THE FAT DEPOSITS
In vitro assessment
- inhibition of differentiation(G3PDH marker)

- reversion of differentiation(lipolysis, morphology)
In vivo assessment
- decrease of fat deposits

- decrease of water retention

- increase of firmness
IN VITRO TEST
Inhibition of differentiation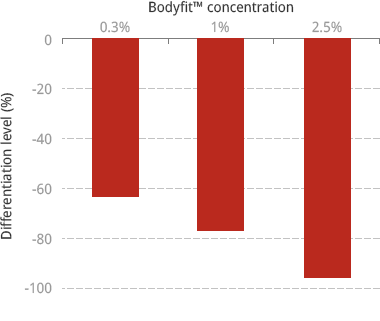 Decrease of the activity of a specific differentiation marker (G3PDH) in a culture of human pre adipocytesin differentiation phase with Bodyfit™
Bodyfit™ decreases significatly the maturation level of pre adipocytes
Reverse differentiation
Adipocytes are cultured with Bodyfit™. Lipid storage decrease is measured by glycerol release.Lipids are detected by red coloration.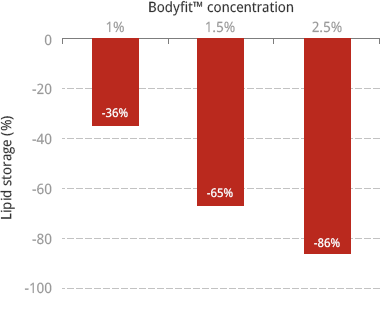 Bodyfit™ decreases significatly the lipid level in adipocytes
Adipocytes are cultured with 2.5% Bodyfit™. Cells are observed by microscopy for 72 hours.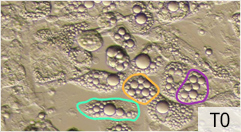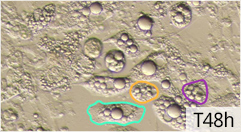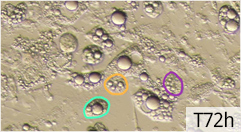 Lipidvesicle and adipocyte sizes decrease. Adipocytes are « slimming ».
Morphologic reversion of adipose tissue into fibroblastic tissue
Adipocytes are cultured with or without Bodyfit™. Cells are observed by microscopy after 6 days.
In the presence of Bodyfit™, the cell morphology is completely different: adipocytes transform into characteristic fibroblast-like cells. Adipocytes underwent a reverse differentiation.
Differentiated adipocytes are cultured with or without Bodyfit™. Cells are transferred onto a collagen gel to evaluate their ability to contract.
In the presence of Bodyfit™, the collagen gel is contracted.
The cells generate tensile fibres (cytoskeleton).
This is characteristic to fibroblastic tissue.
IN VIVO TEST
Evaluation of fat deposits and water retention
17 female volunteers applied twice daily on one leg an emulsion containing 2.5% Bodyfit™ for 56 days. Fat depnosits and roughness are measured by FOITS technique at SpincontrolLaboratories (France). Water retention is assessed with a Moister-Meter D (Delfin technologies).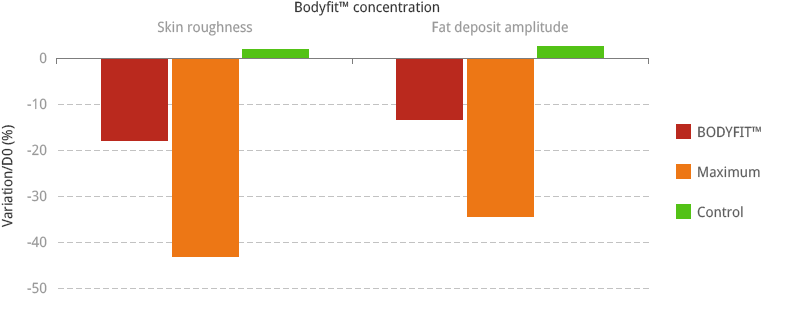 Significant decrease of skin roughness up to 43%and cellulite aspect up to 35%


Water retention :
Cellulite generates an accumulation of water trapped between the fat deposits. When fat deposits decrease, water is liberated and the moisture level in the skin layers increases.

Water release
Skin depth > 2,5mm (Dermis)
Skin depth > 5mm (Hypodermis)
Control
Treated
Control
Treated
Variation/D0(%)
+0.2
+6.4
+0.1
+7.5
Significance/D0
n.s.
p<0.01
n.s.
p<0.01
The Treatment with Bodyfit™ promotes significantly the drainage of water in the deep layers of the skin.
Evaluation of thigh firmness
13 female volunteers applied twice daily on one leg an emulsion containing 2.5% Bodyfit™ for 28 days. Firmness is assessed by cutometry at SpincontrolLaboratories (France). The firmness parameters are: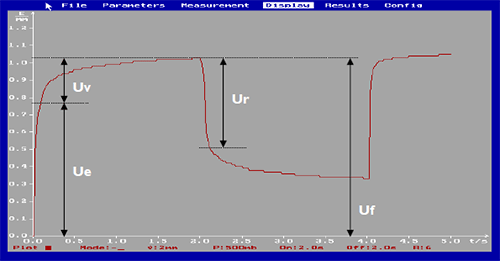 Uv= visco-elastic extensibility
Ur=immediate retraction
Ue=immediate extensibility
Uf=maximum extensibility
The firmer the skin,the lower the parameters
FIRMNESS IMPROVEMENT UP TO 20%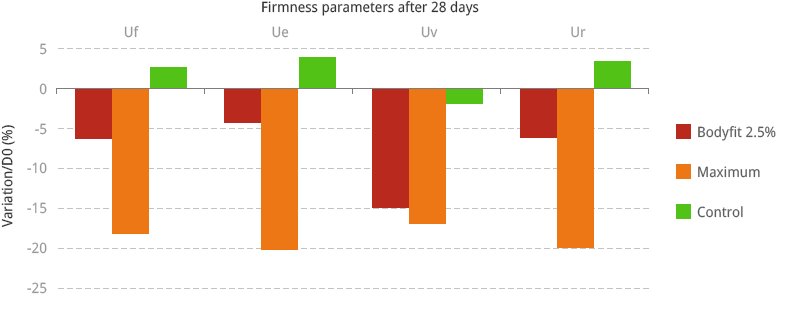 MaximumControlWithBodyfit™, all the parametersof firmnessimproveafter14 daysand significantlyafter28 dayscomparedto the controlFIRMNESS
Product Image