ICYWHITE
Rapha World - Yes, we specialize in Ceramics.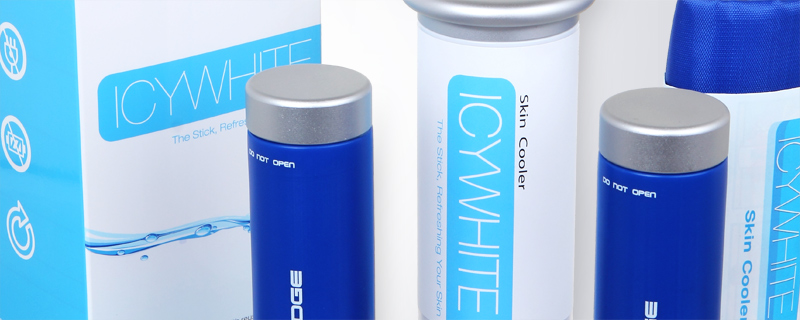 What is ICYWHITE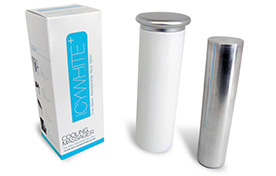 The cold skin will give you elasticity of a young and tightened pores. ICYWHITE surports you to keep your skin fresh performing cooling massage
Specially designed for minimizing the coldness loss.
Features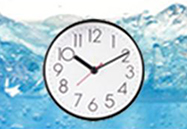 Maintains Low Temperature

With a special design to prevent against cold loss. it maintains a 2-5℃ temperature which is ideal for cold massage. Possible to use continuously for 70 minutes.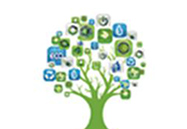 Harmless to the Human Body, Eco-Friendly

Made of materials used in medical devices(anti-allergy). Cold massage treatment with no harm to the body or environment.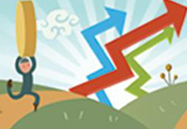 Convenient & Economical

Easy to use to anyone in any household. Semi-permanent product with unlimited number of uses.
Ice massage Effect
Our chest and stomach feel comfortable in warmth, but our face feel comfortable the most in cold temperature. Medically, cooling the face gives a big impact to the nervous systems and the endocrine systems. On high temperature, the pituitary gland secretes more prolactin. This prolactin can be reduced by cooling face temperature.

Raising skin resistivity and keep the elasticity of skin
The reduction of inflammation and edema
Minimizing skin pores, Help calming of atopic skin
By contracting vessels, less blood will flow to the injured area decreasing cell destruction, infection, and inflammation of joints and muscles.
By decreasing the size of pores, the skin`s resistance is increased and elasticity maintained.
Performance
Anodized aluminium
Abrasion resistive material used in medicaldevices is a good conductor of cold.
Polythylence
Expandable Thermal Resistant Waterproof and Impact Resistant.
Cold Temperature Maintenance Over Time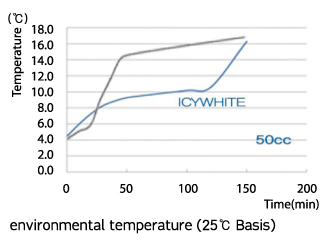 ICYWHITE (Refrigerant: 50cc)
Will maintain a temperature less than 10℃ for approximately 2 hours.
Regular Ice Pack (Refrigerant: 100cc)
Has double the amount of refrigerant.
However, after 30 minutes of use, temperature will dramatically increase thus losing effectiveness.
How to Use
Freezing Preparation Time: 120minutes
Possible Usage Time: 70minutes
- Based on a 25℃ environmental temperature.
Product Image & Dimension