The revolution of the sinkhead!!!
Micro Cleaner is a sinkhead that was inspired by our other hit product, the I-RA Shower Head. The idea behind this sinkhead is new and has the beauty salon industry, as well as baby showers, in mind. With 0.2mm sized holes in the plate, the Micro Cleaner provides excellent washing power and boasts water-saving effects.
Product Information
Cobra Type/Wire Type - (For Sink Usage)

The Micro Cleaner creates anions that keep food clean, vegetables fresh and helps in the washing of dishes by providing a clean, fine water current. Also, the ceramic balls inside the sinkhead eliminate bad smells.
Beauty / Baby Shower Head - (For Beauty Salons / Baby Bathing)

Due to the soft water current of the Micro Cleaner, is it widely used in beauty salons as well as when gently bathing babies. With a water current that is made by 0.2mm holes, it easily removes dirt and grit.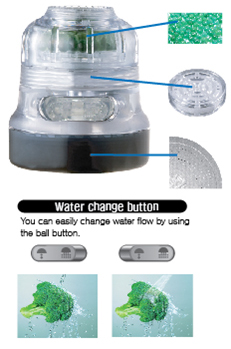 Product Detail
Ceramic Balls

Activate water to effectively wash dishes and foods such as fruits, vegetables, fish, etc.
Non-woven Filter ( Replaceable )

Eliminates floating matter in water such as rust from pipes. It aids in supply fresh, clean water and should be replace once every 2-3 months.
Hyperfine Structure Holes

By passing water through 0.2mm holes, water clusters are broken down producing anions like a waterfall. This also has a water-saving effect of up to 60-65%.
Merits of Micro Cleaner
· Saves up to 60-65% of water usage
· Creates many anions
· Provides a fresh flow of water
· Easily changes style of water current with the touch of a button
· Washes dishes and food effectively by passing water flow through 0.2mm holes
· No splashing
· Easy Installation
· Permanent use of composite ceramic balls
· Features non-woven filter (replaceable)
· Advanced filtration system to eliminate floating matters in water
· Simple, unique, and practical design
· Provides fresh and soft water current for sensitive skin
Product Video