Dr. Clean removes the grease from your kitchen
Dr. Clean is a specialized product that removes oil and grease from your dishes. It is highly effective with just a little amount of detergent because it is composed of acrylic fibers.
Acrylic Fiber, a powerful solution in dishwashing
100% acrylic fibers contain very resilient chemical fibers that have the effect of easily breaking down and dismantling oil and grease when caught between the yarns. We call this effect, lipo-solubility.
Why Dr. Clean?
There are many different types of dishwashing sponges. However, what makes Dr. Clean so special is that it contains Ag+ Ceramic Balls, Negative Ion Balls, and well as Alkali Balls all of which make dishwashing easier and result in a healthy kitchen.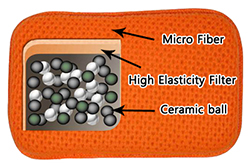 Features
· Dr. Clean consists of 100% Acrylic Fibers
· Dr. Clean has three kinds of Ceramic Balls which help the washing process and increase power (Ag+ Ceramic Ball, Far-Infrared-Ray Ball, and Alkali Ball)
· Dr. Clean is economical and environmentally friendly
Composition
Acrylic Fiber

· Breaks down and removes oil and grease
· Suppresses bacteria
· No harm on human body
Ceramic Balls

· Suppresses bacteria
· Sterilizes bacteria from food residue
· Prevents secondary infection
· Ag+ has anti-fungal properties
· Produces Far-Infrared-Rays and anions
· Reinforces washing power
High Elasticity Filter

· High quality of dynamic stability · Soft feel
Where to use Dr. Clean
Kitchen

When washing oily dishes, kitchen utensils, dirty stoves, countertops, etc. Use with warm water is more effective.
Bathroom

Toilets, tiles and windows can be washed with Dr. Clean
Living room

Windows and floors with stains
Product Video